# 7 balls, #focus, #endupatt, 9 balls flashing, #StagesOfLearning, #technique, 3 heavy balls, 5 heavy balls, 208 minutes
( after two partly chilly, down to 15°C and below, rainy days, now near perfect again and more warm & dry & sunny days ahead )
3b 200gr, freestyle, misc - 12 min.
5 heavy balls, 200 gr casc - 5 min.   Around 100 throws wristy 6-high.
9b flashing - 63 min.   One million times 7 gathers.   Two times 8 g.   11 throws into 7 gathers. 13 throws. (only rethrow attempts, i think)
  #SoL #technique - new little insight / tuning:   It struck me towards end of stint, that in the past I have been throwing the first two throws to abrupt, with abrupt movement up as if i were throwing from loose wrist, which doesn't make sense for the first ball from stronghand - a fifth ball on top of diamond gripped four others (and weakhand then following with its first launched fourth ball on the index where it would make sense to try wristy already, but so far, I let it ``follow´´). I am doing them a bit slowlier in any case, but somehow, I managed to even then do them in an abrupt way.   If I do those two throws softer and explicitly get their thrust from forearms almost only, I should get more control over my launches becoming well structured (upto now, I wasn't sure, what exactly makes me sometimes get it well, sometimes bad). Gotta try like that again and track this.
7b casc - 128 min.   44, 43 cl, 43 cl, 44, 53, 53, 45, 49 cl, 55, 66, 53 throws longest runs. Pretty great yield, but I wasn't satisfied, for example, I lost several good runs on ~35 throws' mental (or whatever physiological) barrier, and also did tensed a lot and didn't easily get or stay in snapped-in patterns; no question of ``settling´´ in good patterns, which is my next step & level. Nonetheless, happy with a good yield of course.   [ daily7b II: 66 ]
  Also here, found yet a new aspect, "issue" even: #SoL #focus #endupatt - I am often focussing on stronghands' balls up for orientation, while I should rather partage my attention equally on any / both hands' last balls up. It's surely a result of my alltime stronghand \ weakhand asymmetry that never bothered me, but the issue is one of focus mainly. [Note to self:] Also work on, work with, and track this!
5b fastest - 5 min.   (no long runs)
Total practice time: 208 minutes
Location: rivershore-meadow
13th September 2017
# 7 balls, #StagesOfLearning, #endupatt, 5 balls, 112 minutes
5b casc warmup - 5 min.   very high. low & fast. wristy 5-high.
7b casc - 107 min.   Fourtyseven Day .. got 47, 47, 43, 59, 47, 44, 59, 47, 45 throws longest runs.   A fight "tensed \\ untensed" against tensed shouldermuscles, against bad ratio, against inaccuracy, against doing too far ahead, against rowing too wide, that after a while I won by doing just a hearty bit higher (``than I thought´´; and at the same beat) right from launch, by walking back or forth at launch, by focussing on patterns' top better, trying to orient on it, by doing more speedy and by flapping wrists well (and luckily I felt ``speedy´´ too), and by can't remember.   Several runs felt smooth, comfortable and like going longer, but got slips or pattern became unstable.   One given run, I had the impression, I were controlling pattern's top from a distance, like when trying to put a fidgeting fish at the end of the fishing rod into a small bucket by the handle of the rod from that distance.   [ daily7b II: 59 ]   All I need is two consecutive long runs without the drop in between, you know.
Total practice time: 112 minutes
Location: uneven cobbles under bridge
22nd August 2017
# 4 balls, #StagesOfLearning, #mentec, #otu, #prEx, 250 minutes
4b Fountain-Day / Attacking the 4b fountain - ~250 min

Had to wait in front of the house, so took this opportunity to eradicate my fountain- stumbling block / repugnancy / aversion:

Hardly got over like 12 throws with it. I knew before, I'd dearly need most trivial exercises in order to get anywhere with this:
- started off with 1hd 2b joining in for single throws ( s'swap 4[22]4[22]..4[42]424[22]..a.s.o. ). Then in a joining-hand's 2-beat ( 4[22]4[22]..4[42]424[42]42..a.s.o. ) as long as would go, then every now and then two consecutive throws from the joining hand ( 4[22]..4[42]44424[22]..a.s.o. ). Then more throws.
Those exercises got me to about 20 throws of the regular, 'full' fountain.
- Weakhand did unwanted columns. Hands weren't `connected´.
- Figured out this: one `main´-hand shall keep on doing 1hd 2b, the other goes to collect as soon as I lose control after a few consecutive fountain throws. So there wouldn't be any drop. And changed this main-hand during the run, alternated it. This was a good exercise for both hands to re-join the other doing 1hd 2b into full fountain.   The interruptions (one hand needing to collect and re-join in) got less, and I got longer and longer and lower runs; lower also means a flatter angle to throw away from middle (like away from middle in "V" shape so to say). Worked myself up like that, and also by doing on different heights, to an about 100 throws run [ #prEx ] and longer poised snapped-in phases, yet more slaving to the pattern than really having full control (so, still not ``owned´´, but I now know what it's supposed to be and feel like - I've once and for all `seen it before´ now).

[ #SoL #mentec #exercises(?) .. ? ]

All this felt like 2½ (hoping for maybe 3) hours passed, and I couldn't believe it had been over 4h when I looked at my watch. There were a few  "Djeeses, how can such a simple pattern be so hard to get down?!"-moments, as even half-long runs upto like 30 throws still felt awkward, tensed, klutzed, very unsatisfying (whereas the exercises with early collects were very much okay). Hadn't I have had to wait for a technician, I might in between have adjourned to another day. So, yeah, unconditionally "doing until" got me through it (and made me forget how long this really took).
Total practice time: 250 minutes
Location: #outdoors
16th August 2017
# 7 balls, #form, 3 heavy balls, 9 balls flashing, #StagesOfLearning, 5 ball tricks, 5 heavy balls, 225 minutes
3b 200gr, freestyle, misc - 40 min.
5 heavy balls, 200 gr casc - 10 min. 109 throws wristy 6-high. 277 t 5-high.
9b flashing - 22 min. Three times 7 gathers. #SoL #technique - I have found an orientation for while launching: after the first two low throws, there appears the tunnel for the next ball(s) to either go on throwing through it, when it's wide enough, or else, in case it's `closed´, use the second front plane. This gives me a focus to focus on, while upto now, I did: "get the first four lower balls out of the way somewhat wider to the sides, soas to hammer up the five later ones on good height full automized" ( without any clear focus on a pattern or structure while(!) launching ). So, I can now do: "one--two--tunnel--tunnel--tunnel--a.s.o.". [ I found this late that stint, so stopped soon after that new insight. ]
5b 56752 - 17 min. Long time only a couple each, 6th and 7th sides; then a run into 12th side's throws to collapse. Also, then an 8 sides' run clean.
7b casc - 136 min. 43, 43, 59, 43, 49, 44, 55, 43 throws longest runs. #form - One hard airless-flabby-weak-worn phase in between, that I got over by not using any effort at all (was powered out anyway), doing very low and as nimble as could very short runs without even taking the effort to correct any flaws ( I was near laying two balls away and doing simple cascade or sth with 5b instead ). A while like that gave somewhat better form again to do halfway normal again. - Moments like that take me back down to realize how little I can actually do ``anytime´´, ``in my sleep´´ / when ``running on half-light´´. [ daily7b II: 59 ]
Total practice time: 225 minutes
Location: shady rivershore-meadow
27th July 2017
# 7 balls, #StagesOfLearning, #endupatt, #mentec, #ThinkAs, 5 ball tricks, 3 heavy balls, #otu, #ballproperties, 5 heavy balls, #exercises, 158 minutes
3 small heavy steel balls, Ø 4cm, 300g, - 5 min   #otu - as good as never used these for juggling before (maybe tried and refuted) - [ #ballproperties ] they give somewhat stable tiny fast patterns, but aren't really first size & weight choice generally. Maybe for exercise.
3b 200gr, freestyle, misc - 13 min. ( the Ø ~6cm again now)   A bit long-time-no-do windmill.   It's comparedly easy to do every second throw the other way over (always crossing hands when required), but pretty difficult to get a nice looking equal bows windmill.
5 heavy balls, 200 gr casc - 5 min.   105 throws wristy 6-high.   319 t 5-high.   #new #exercises - found, that swaying the pattern sideways left-right-..a.s.o. practises scoop issues and throwing angles very well(!).
5b 56752 - 20 min.   Upto an 8 sides clean run. One 9 sides clean.   Also here: "wristy" spares dwelltime, makes the rhythm seem slower, and gives me breath to better anticipate what's next and fitting throws and the rhythm, their `melody´, to one another.
7b casc - 115 min.   Longest runs (throws): 49, 43, 49 fc (a last ax throw to throwhand-caught), 45, 53, [break], 46 (48?), 45.   #SoL #endupatt #mentec #ThinkAs - Made myself an eye for the upper three balls lately and focused and oriented on that floating 3b-cascade as a "top of the pattern" for aiming into well.
                http://fs5.directupload.net/images/170905/vgusmwj3.gif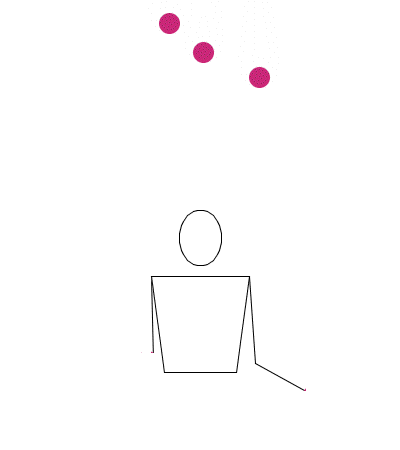 That ``top´´ now has a distinct shape!? - not a nebulous notion of empty air somewhere up there, flewn through by balls, anymore; a better gauge for precision, also. Just another ``aspect´´? .. or sth to cling to for getting it constant? .. practise & time will tell.   [ daily7b II: 53 ]
[ rain stopped this stint & session ]
Total practice time: 158 minutes
Location: rivershore-meadow
26th July 2017
# 7 balls, 5 ball tricks, #StagesOfLearning, #learningSiteswaps, #enduswap, 9 balls flashing, 3 heavy balls, 5 heavy balls, 203 minutes
5b 56752 - 38 min.   6-7-8 sides. One 9th, one 12th side (both to collapse).   Today, had a track of what exactly every run fails on in the end -
  o too low 7,
  o too much spread, unclean aiming,
  o collisions, mostly 6 onto previous 5,
  o my usual drift into bodyturn towards weakhandside.
  #SoL #learningSiteswaps #enduswap - So, alas, no major distinct flaw in particular to work and put special attention on, but well spread over all issues that happen in unstable pattern, not utterly comfortably snapped in, no full control over pattern, timing, heights, thrusts, an' everything. Guess, I'll have to work these off one by one, or better: find an issue that covers most these problems in one; e.g. constantly aiming every single ball well on the right height (like you do when learning sth new), or better to its right spot in the air (unlike with cascade where all throws are alike), is a candidate for that (?); or tune and perfection the `rhythm's melody´, get the rhythm to the point (?); or - in that same sense - short controlled runs in hunt for swiftest pattern (higher? lower? how wristy or controlled by forearms too? .. ) (?); or slave better to pattern's geometry (??); ..
  There might also be an issue, I haven't noticed at all or enough accounted for .. maybe my weakhand's asymmetry  ( that I always took as is, which works fine so far for e.g. also cascade endurance and e.g. also few ball stuff )  .. maybe it shows up notably more and hinders more in complex s'swaps.
  A juggling pattern, including hand's motion and brain's work, just has so many properties to be accounted for.
3b 200gr, freestyle, misc - 5 min.   (just warmup on weight for 5b 200g)
5 heavy balls, 200 gr casc - 5 min.   40, 77, 113 wristy 6-high.   279 cl 5-high.
9b flashing - 15 min.   Two times 7 gathers.          
7b casc - 140 min.   45, 53, [short snack break, 10'], 51 throws longest runs.   [ daily7b II: 53 ]
Total practice time: 203 minutes
Location: rivershore-meadow
18th July 2017
# 7 balls, 3 heavy balls, 5 ball tricks, 9 balls flashing, #StagesOfLearning, 5 balls, 5 heavy balls, 235 minutes
3b 200gr, freestyle, misc - 35 min. Including a bit reachunders again.
5 heavy balls, 200 gr casc - 5 min. 139 wristy 6-high (1.st attempt). 177 t 5-high.
9b flashing - 20 min. Three 7 gathers, one of which 8 g in reach (bounced high off full catchhand, but out of reach). #SoL - really need to force myself to not do big increments at launch! (resulting in about b-high last throws and wasting those milliseconds of dwelltime, then being late for catching the first incoming ones, making me erroneously think, I have to launch the next attempts with more hurry, without actual need)
5b 56752 - 35 min. One 14 sides' run to collapse near latest PR. Rest upto 8 sides.
7b casc - 132 min. 45, 44, 43, 45, 55, [break], 43, 43, 45 throws longest runs. [ daily7b II: 55 ]
5b fastest - 8 min. Felt extremely speedy and ado became "too fast for long runs", hardly getting two rounds.
Total practice time: 235 minutes
Location: #outdoors
14th July 2017
# 7 balls, 3 heavy balls, 5 ball tricks, #StagesOfLearning, 5 heavy balls, 245 minutes
( Not too serious (i hope) lumbago on one side - needed gym, limbering up and stretching 10 min first. Got better while juggling, but felt handicapped a bit all the time. )
3b 200gr, freestyle, misc - 42 min. this ..
http://web.archive.org/web/20170917000233if_/http://fs5.directupload.net/images/170917/xp4ofxld.gif

.. is roughly my rev--rev--norm--norm "fastest" pattern.
5 heavy balls, 200 gr casc - 13 min. 63 throws wristy 6-high (took a few attempts). 335 t 5-high.
5b 56752 - 32 min. 6th, and a few 7th and 8th sides (one 8th clean); maybe one 9th (not sure). #SoL - ( still in " 5675 | 2 "-think-as mode, .. ) laboring on whether to either word, actively think the hold-beat, or else to just let it go by (as sort of a `long´ 5), concentrating on `real´ throws only.
7b casc - 158 min. 45, 43, 43, 43, [short break], 47 (near very end of stint) throws longest runs. [ daily7b II: 47 ]
Total practice time: 245 minutes
Location: #outdoors